With RTX over, and the post-RTX day spent sleeping most of the day done, time for a wrap up of what all happened, and wooo, it's a doozy...




I was able to be a guardian this year and I was assigned to the AH Lounge. First though, there was quite a few people who flew into town. @RJ, @DBenitez87, @ghostsol, @KyleDoesGTA, @aclarkislost, @Left2Cry, @Brady, @TonyPaoli, and more joined us local Austin guys, me, @IAmVeryMoist, @Ijuycra, and @Riles for a big ol LP Community group.

Even before the convention we would go out to hang. I was able to show the guys the joys of Austin food, since I'm a big guy who knows food. They finally got to try Torchy's Rudy's, and P Terry's.



Thursday night we did our guardian thing, then decided to go to the K1 Speed charity event hosted by Jack. First though, we had to go pick up Tony from the airport. Since I'm the only person with a car, we had to figure out a way for us to all get over there, since we had so big of a group, we couldn't all travel together.



We picked up Tony and headed over to the k1 speed event. My car then promptly broke down. We waited over an hour for a tow while Kyle and a few others were already at K1 speed. Luckily Riles was able to squeeze us all into his car.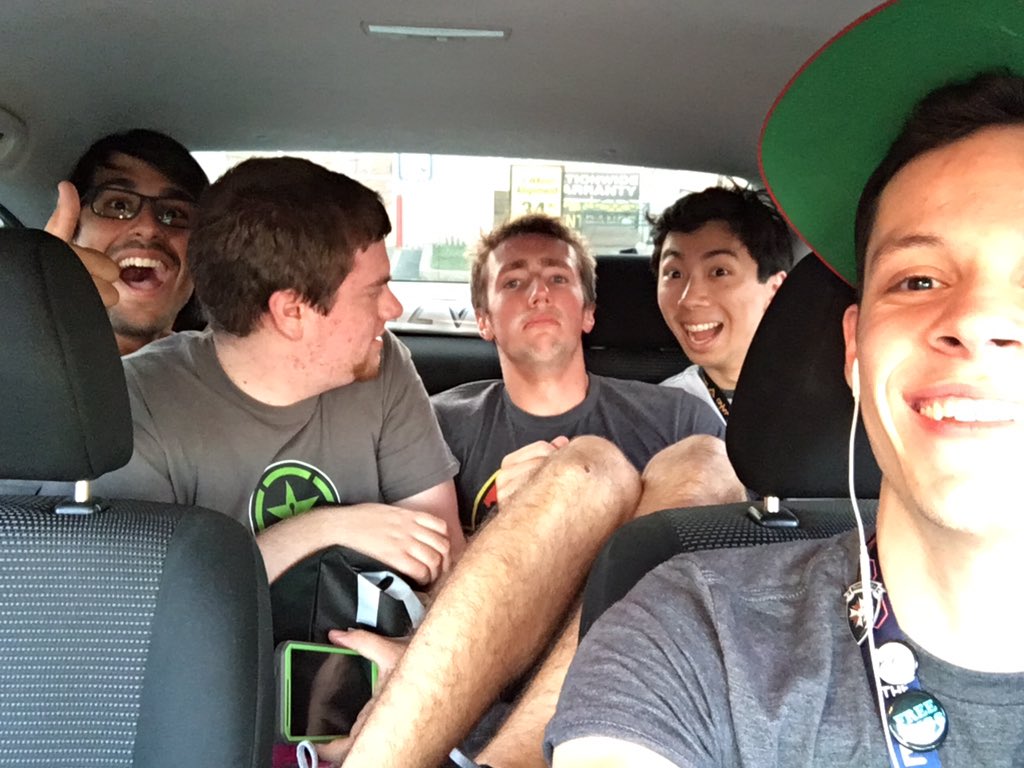 I later found out that my car repair will cost me $580 to fix, so for the rest of RTX, all of us spent money using Fare and Fasten, two new replacements for Uber and Lyft. At K1 Speed, we all ran into @AxialMatt. Glad he remembered me from last year. We waited in line for an hour for all of us to introduce ourselves as AH/Let's Play Community creators. He told me I didn't have to wait in line and I should've just walked up to him cause he knows me. Definitely didn't want to be a dick and skip all those people, so I'd say that was an hour worth it, in my book, haha.

That night, because there were so many of us, we took a Fare in an SUV back to the apartment. Sadly, that fare turned out to be a $80 ride. Definitely not going the SUV route next time.



The first day of RTX was amazing, and @micaburton got cookies for all the guradians, it was awesome. At the AH Lounge, @MoofMurphy made signs to try and keep @Joel away from the Tower of Pimps, since he has signed it every year for three years so far. Ultimately, we failed, but only just... Joel was able to get a "J" in before Moof was able to stop him.



One of the perks of being at the AH Lounge was getting together with other guardians to play Million Dollars But on the Off Topic set and table.




On Saturday night, we had a big Let's Play Community meetup on 6th street. Met up with some cool friends I've only ever talked with online, as well as some old friends. Thanks @Ijuycra, @DBenitez87, @RJ, @KyleDoesGTA, @aclarkislost, @Left2Cry, @Brady, @IAmVeryMoist, @FromShanePR, and Zach for all coming by, it was a blast.




Unfortunately, our friend @TonyPaoli wasn;t able to make it. He got into Austin on Friday and then started having stomach pains on Saturday. it was so bad he had to go to the hospital. Turns out he had an appendicitis. He had surgery that night, and we all made sure to visit him that night beforehand. He flew out that Sunday after a successful surgery, but he missed the majority of RTX. Sorry man.

Overall, this RTX was full of some crazy emotional ups and downs. It was amazing. Last year at RTX, I was an intern at RoosterTeeth, but even though I had spent three months there, I probably focused too much on keeping my head low (or having my head too high, in some cases) that I didn;t really make any friends. My RTX last year had me wandering around the convention without really anybody else, just by myself. It was lonely, and while it was still amazing, I was totally friendless. This year I was blessed with having some amazing friends, almost all of which I met through RT events or through the AH Community channel. We're all friends because of this, even when we sometimes get jaded on the fandom itself. You all are amazing and you have no idea how much I appreciate the fact that you guys are around.

Internet friends are real friends.

-Phoenix