It's time for our regular segment in which @Gafgarian (AKA Jeremiah Palmer) provides answers to the burning questions left unanswered in each episode of the Rooster Teeth Podcast. Read on to get closure for Burnie's Sunset Party Hangover – #422.
What is the best cheese for grilled cheese?
There is some debate on this since, as you can imagine, it is a pretty subjective decision. However, from a purely chemical level, there are some clear winners. Generally speaking, cheeses with a higher pH level make for a more consistent grilled cheese experience. This doesn't mean that that they will necessarily taste better, as taste involves several other variables including the type of bread, additional seasoning, and cook time. From the perspective of the chemistry, the "sweet" pH spot is between 5.3 - 5.5. Due to the way cheese is made, a higher pH level exists in milder cheeses. This means that, chemically speaking, the best cheeses are gouda, gruyére, manchego, and, of course, american. The last option can claim a pH level of 5.8, or higher, depending on the what type of emulsifier is used to bond the cheeses together. Typically this some type of sodium, in which case american cheese tends to produce the preferred gooey consistency of a perfect grilled cheese. All of this said, there are some self-proclaimed "grilled cheese connoisseurs" who swear by the extra sharp cheeses, choosing to embrace the clumpy, uneven melting for the unique flavor. What about you? Classy or classic?
What is an English Breakfast?
The traditional English Breakfast, also known as a "Fry-Up", will typically consist of back bacon, eggs, British sausage, baked beans, fried tomato, fried mushroom, black pudding, and fried and toasted bread. These ingredients are up for debate depending on which part of Great Britain you happen to be dining in but are, in most cases, the general consensus of the base ingredients of a Fry-Up. Notable variations on the English Breakfast also exist in other parts of the United Kingdom, with the Irish Breakfast swapping black pudding for white pudding and usually containing soda bread and potato cakes. Similarly, Scottish Breakfast puts more of an emphasis on the presence of black pudding and usually adds a bit of haggis as well. However, a truly traditional English Breakfast would likely look like the image below. Notice the inclusion of bone marrow, an oversized pork chop, and homemade pork rinds.
You may look at this and wonder who would possibly eat that much food and you would not be wrong. The history of the English Breakfast tells us that it wasn't really intended to be completely eaten, despite it being quite a claim of honor among some would be connoisseurs these days. The English Breakfast can trace its origins to 13th century England when the gentry, convinced that the traditional Anglo-Saxon culture was disappearing as immigrants began "invading" the households of the traditional British nobleman. In an effort to preserve the distinguished country lifestyle of high society, the gentry created a spectacle of breakfast time. Lavish feasts were held frequently in which neighbors, friends, and relatives were encouraged to attend. During these feasts, the gentry served a large variety of different meats, and other locally sourced food, as way to provide further proof of their opulence. Prior to these feasts, breakfast was just another meal, it was the gentry's focus on turning the morning meal into an experience that established the meal as a sign of wealth and made clear its importance in British society.
However, it was the Victorian age and the households of wealthy merchants and self-professed royal lineages that ultimately birthed the English Breakfast as we know it now. Like the gentry before them, the upper echelon of Victorian British society leveraged the English Breakfast as a way to demonstrate their wealth and social influence. Shortly after assimilating the English Breakfast tradition, Victorian nobility standardized the ingredients, cooking processes, as well as the pomp and circumstance around the meal. Once standardized, the meal became more easily replicable by the working class and within a hundred years or so the tradition and, in particular, the meal, had become a staple offering in pubs, bed and breakfasts, and on family tables.
Being that there is a fair share of the RT Community hailing from this part of world, I'm definitely interested in hearing about the difference among the plating and which one of you eat a "real" English Breakfast...
Does the "hair of the dog" method work?
Technically, no. That isn't nearly as surprising as finding out that the popular phrase used to describe the act of drinking away your problems gained by attempting to drink away your problems in the first place can be traced back to a 500-year old poem. In it, poet John Heywood, pleads, "I pray thee let me and my fellow have a hair of the dog that bit us last night — and bitten were we both to the brain alright." Despite Heywood's insistence that all it would take to sober him, and his friend, up is a bit more of the sauce, as well as Gus and Burnie's insistence of the same, there is no scientific evidence to support this centuries old myth.
Chemically speaking, the reason for your hangover is all about the water, or lack there of, in your body. Alcohol is a diuretic, which means that it causes the body to lose more water through increased urination. In alcohol's case this is because it inhibits the production of a pituitary antidiuretic hormone that helps the body to reabsorb water. The symptoms of a hangover are the direct result of the amount of water loss during alcohol consumption. In addition to limiting the production of the antidiuretic hormone, alcohol also leads to a more stressed metabolic system as your liver works overtime in an effort to filter toxins from your bloodstream. This means that the best cure for your hangover is not reaching for that unfinished beer but rather a bottle of water.
While various studies have shown an increase in cognitive awareness and motor skills after diving back into the bottle the next morning, those same studies cannot conclusively say that these minor increases in functionality are a direct result of the drink but rather a convincing distraction from the symptoms. Additionally, there is some evidence to suggest that darker alcohols, such as whiskey's, higher concentration of methanol can contribute more to a hangover symptoms and the consumption of more ethanol rich alcohol can delay the metabolism of methanol, thus delaying the occurrence of a hangover. Once a person's blood alcohol level begins to drop, hangover symptoms are not far behind. Any additional alcohol consumption is only delaying the inevitable. Ultimately, there is no magic cure for a hangover. Even water will only help to minimize the symptoms brought on by dehydration. The effects of alcohol consumption will ultimately last until the liver has successfully detoxified your system. An average liver can manage this at about one drink per hour, though this can vary slightly. That said, there seems to be no better placebo then one laced with alcohol.
Why do people not smile in old pictures?
This has been a surprisingly tough question to answer for historians, however, recent studies into the beginning of the consumer camera market has brought about a bit of a shift in opinion. Originally thought to fixations on appearance, specifically around oral hygiene as well as "having little to smile about" the tight-lipped persona of industrial revolution-era Americans has been a pretty common sight among history textbooks for years. The recent shift has led to a pivotal question that has, effectively, changed everything. The question went from "why do people not smile in old pictures" to the more relevant, "why do people smile in pictures now?"
It was the realization that it isn't some innate human reaction to smile anytime a camera is shoved in our face that led researchers to begin paying attention to exactly when this shift in expected facial expressions really began. By reviewing thousands of high school yearbooks from across the country, and spanning the 95 years from 1905 to 2000, researchers were able to track the gradual shift from the tight lipped formality of pictures to the expected "cheese" induced smiles of today.
Though, on a slightly related side note, in my research for this, I also learned that it apparently makes for a much more natural smile if you use words ending in an "uh" sound rather than words with "ee." Apparently, the use of the long "e" sound in pictures was handy when cameras had lengthy autofocus timings or required a whole ritual take place around manually focusing. Since modern cameras are essentially instantaneous in their focusing abilities, the drawn out "e" sound ends up producing a smile which is easier identified as "fake." So, the next time your grandma tells you to "say cheese," you should say "vagina" instead and see what kinds of random mid-shocked expressions are captured on your family's faces. It serves two purposes!
Back to the answer!
These researchers were able to identify and essentially plot the slight increase in curved lips over time until, by the late 1930s, the toothy grin began making its first appearance in the photos. The researchers then went back to look at the use of cameras during those decades or rather, the availability of them. This led them to a particular shift, by Kodak, in the marketing of cameras. Before Kodak, cameras were unwieldy, expensive, monstrosities that required hours of your day to set up, use, and then manually develop each large printed negative. In 1888, George Eastman changed the game with the Kodak #1. For $25, which is roughly equivalent to a little over $600 now, you could own a magic box which, along with capturing your soul, was also able to remove the requirement of your own dark room or a special set of skills. By 1900, the Brownie camera was sold for a scant $1, roughly $25 now, and, though marketed to children, its reasonable price made widespread amateur photography a very real pastime.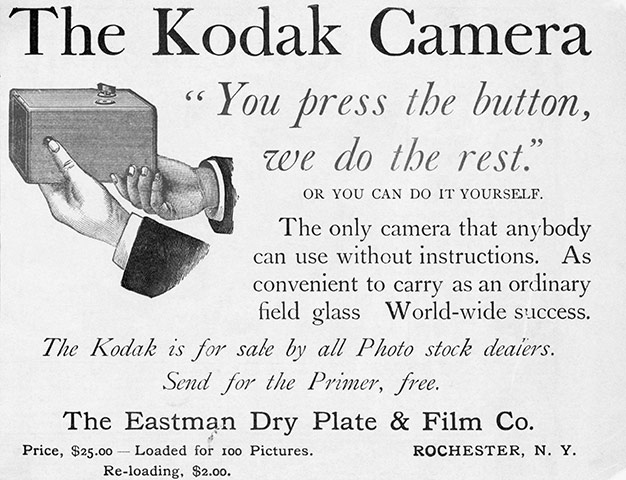 No longer were there long dreary lines ending in obviously staged family photos that captured the historical moment of the family but left out any of the vitality of family life. The spontaneity of taking a picture at any time was sweeping the nation and, unsurprisingly, that meant that capturing the life of a given moment was a much regular occurrence. This began changing the way people wanted to be seen in pictures. The dreary formality of decades past began to be replaced by the candidly captured moments of people enjoying life and people realized that it was much more enjoyable to share pictures of captured moments than it was to show a staged historic memory of "what we looked like in 1862." Kodak, captured this momentum and shifted their advertising to feature smiling moments. The image below shows the difference in advertisement over only a nine year period, from 1912 (left) to 1921 (right).
You may have picked up on another, more obvious, pioneering moment for advertising in these two photos. That being that Kodak was one of the first to advertise directly to women regarding a product that had been largely thought to be a "man's responsibility." Ultimately, with focusing on depicting consumer happiness and putting a woman behind the camera, instead of in front, their unique marketing strategy changed, not only the way we take pictures, but the entire advertising industry.
And you thought this was just going to be about a few miserable looking people...
How does vantablack work?
According to Surrey NanoSystems, the company which invented vantablack, the material is "...a functionalized 'forest' of millions upon millions of incredibly small tubes made of carbon, or carbon nanotubes. Each nanotube in the vantablack forest has a diameter of around 20 nanometres (that's about 3,500 times smaller than the diameter of the average human hair)... A surface area of 1 cm2 would contain around 1,000 million nanotubes."
It works by capturing light between these microscopic tubes. Again, per Surrey's website, light is "rapidly absorbed" as it bounces between the tubes and is unable to escape due to the length of tubes. The example provided is, "...visualise walking through a forest in which the trees are around 3 km tall instead of the usual 10 to 20 metres. It's easy to imagine just how little light, if any, would reach you."
Additionally, vantablack is officially considered the World's Darkest Man-made Substance. According the National Physical Laboratory, the material reflects only 0.036% of light. This makes it ideal for coating highly sensitive cameras and sensors however, its virality has led to several other industries reaching out to Surrey. These include luxury watchmakers, artists, and even car manufacturers. However, Surrey NanoSystems spokesperson, Steve Northam, says that applying the material to a car's body would be a mistake as the physics of the material rely on a verticality to function properly. In other words, despite feeling smooth to the touch, you are effectively crushing down the microscopic nanotube towers which allow the material to capture light the way it does. This makes for an extremely fragile surface and, while they have invented a spray application which provides slightly less absorption in favor of greater resiliency, even that isn't ready to weather the elements.
No worries though! These current limitations haven't stopped Surrey from imagining the future of the product and, while exclusive "creative arts" usage rights current belong to sculptor Anish Kapoor, you can request a sample using this form. The only catch is you need to be from a museum, school, or legit organization. Oh! And it costs £300 for a 2" square wrapped in plastic.
What causes elephant musth?
Gavin is right in that we aren't 100% sure why elephant's experience a musth period. However, the running theory is that it is to prevent inbreeding. Essentially, the pack mentality of the elephant combined with a proportionally smaller herd when compared to other pack animals, like wolves or lions, and a longer lifespan than most smaller mammals, means that the probability of having a single dominant bull elephant for several years is high. It seems, to avoid the possibility of this dominant male "hoarding" the females, nature has made it so during a roughly one month period of time, after the age of 15, a bull elephant experiences an intense surge of testosterone once a year. During this period the older females, and "non-musthing" elephants, will corale the musthing bull towards females in heat.
What are bath salts?
Bath salts is actually a name attributed to several different types of man-made designer drugs. Because of this discrepancy they can be various shades of white or brown and can be a fine powder or in large crystalline rock form. Their name, and only relation to the epsom bath salts most think about when hearing it, is due to the fact that their small crystal form bears a striking resemblance to the harmless epsom powder and is easily disguised as such.
Given their variety, it is difficult to say with any certainty what is actually contained in a baggie of bath salts at any given point in time however, in most cases, it is some synthetic derivative of cathinone, which is a naturally occurring chemical similar to ephedrine. This substance is commonly found in Khat, an East African flowering shrub which, when chewed, as it has been for thousands of years, gives one a sense of euphoria. It is this variety of ingredients that has led to the illicit drug's unpredictable interactions with the brain.
Destin from Smarter Every Day and an oxygen mask?
The stats on "Useful Consciousness" times are crazy...
The Mount Everest body landmark is gone now?
28-year old Tsewang Paljor became one of the most well known climbers to fall victim to the dangers of the great mountain because of his boots.
Since his tragic death on May 10-11 1996, Paljor's presence on the mountain has served as a glaring and ominous testament to both the dangers of mother nature and the stubbornness of man. Exact details surrounding his death are mixed, at best, including a good deal of finger pointing toward a Japanese climbing team that came under fire for not assisting Paljor and his two companions who had also succumbed to the mountain on that day. That day, to clarify, is one which, even those with casual interest in the happenings of the world's highest point, will likely be familiar with. The day was immortalized in Jon Krakauer's Into Thin Air as well as Hollywood's recent big-budget Everest film. Eight climbers would perish during the overnight blizzard on May 10th and the growing commercialization of Everest would immediately be brought into question because of their deaths. Unlike the other climbers, however, Paljor's position with the Indo-Tibetan Border Police and his presence on the mountain was not a commercial endeavor. Rather it was an attempt to summit one of the most dangerous peaks in the world to represent India on the small, but growing, list of mountaineers who have conquered the mountain. While his name does indeed appear on that list, though not without its own controversy, it also, unfortunately, appears on the smaller, but also growing, list of mountaineers that have fallen victim to the dangers of the climb.
"Green Boots," as he would be known for nearly two decades by climbers also eager to put their name on the first list, while hoping to avoid the second, lay under an outcropping of rock somewhat guarded from the elements. Presumably, this is where he ended up seeking shelter on that terrible night in 1996, unaware that it would become his final resting place. Because of the guarded nature of this outcropping, now referred to as "Green Boots' Cave," many climbers in the last 20 years have spent time huddled beside the Paljor's fallen body before continuing in their pursuit of making it onto, at least one, of the lists. In addition to Green, enough colored parkas had fallen along the same ridge to coin part of the north face, just above Green Boots' Cave, to warrant the name of "Rainbow Ridge." The graph below shows the altitude of Poljor's fall when compared to other deaths on the great mountain. The cluster of fallen hikers just above Paljor are those that have created the multi-colored path of Rainbow Ridge.
Over time the fate of Green Boots, not Tsewang Paljor, has become infamous with would-be hikers of the mountain. His family, unhappy with thought of his memory being reduced to the color of his boots, have attempted to raise the money necessary to in some way remove his body. This is no easy task. There is a reason why the fallen names on the second list largely remain on the mountain. Not only is the effort of removing them significantly more dangerous than summiting the peak of the unforgiving mountain but, in the words of one hiker, "...after a season the bodies are part of the mountain and no one wants to take part in moving them." Some may interpret this as being a philosophical description of the ideals surround committing oneself fully to what they love and the idea that a fallen mountaineer's wish would be to be left on the mountain which finally claimed them. However, the truth of the statement is much more morbid. The temperature variances causing freezing and thawing cycles lead to the bodies literally becoming attached to the mountain. This makes moving them an unpleasing experience, to say the least. That said, attempts to remove, or cover, the fallen, in order to avoid the potentiality of their corpses becoming impromptu macabre trail markers or monuments, have picked up over the last few years.
One of these to be claimed by the mountain, and one of the first to be subsequently removed, fell in the very same cave as Green Boots. David Sharp, was a renowned British mountaineer who, in 2006, made it onto the second list after being found in the cave huddled alongside Green Boots. Sharp's body was removed from sight, presumably given to one of the many mountain crevasse, at the behest of his parents who, also presumably, paid a premium for its removal. While in recent years the desire to clean up the mountain has led to suspected covert clean up crews dispatched by the Chinese government, their state department has remained mum on the subject. Perhaps the most glaring reason to suspect this action occurred when climber Noel Hanna made the summit climb in May 2014 and was astonished to find that Green Boots was gone. Initially thought to be a random occurrence due to rough weather, this thought was quickly abandoned when Hanna continued his trek and discovered that nearly all of Rainbow Ridge had been cleared. Of the 10 previously visible bodies, only two remained. While there had been some time, due to the climbing off-season, between when the bodies were confirmed to be there and Hanna's climb, it is unreasonable to think that all of these bodies, including Green Boots inside his protected outcropping, had managed to be taken by the mountain via natural means.
Ultimately, there is no shortage of mystery surrounding the circumstances that led to Paljor's death or his eventual disappearance. While we will likely never know what happened on the mountaintop in 1996, Green Boots was not the first or last to fall victim to the treacherous slopes. Of the 4,000+ names on the first list, over 280 are on the second and, given the continued commercialization and virality of the climb, most experienced climbers feel that it is only a matter of time before the latter number may begin to grow faster than the first.
What is the deadliest mountain to climb?
In order to provide some clarity, as well as narrow the list a bit, we need to distinguish between the various mountains and how to define them in a "deadliest" list. One distinguishing characteristic is their elevation. There are fourteen peaks above 8,000 meters which is where the typical cut off for these lists ends up being, even if they aren't explicitly saying so. This is because there are so many smaller peaks which may have higher death counts simply because they are smaller.
For example, one of the peaks with highest death count in general is in the Mont Blanc Massif. This is the same mountain range which Burnie and Ashley were on top of during their Amazing Race leg in Les Grands Montets and Chamonix. The very same which Burnie, if you ask him, nearly made it onto the second list for. This range has the highest peak in all of Europe at 15,782 feet and has claimed an estimated 8,000 lives.
Of those that tower above the 8,000 meter limit, however, the honor of the most dangerous in the "Dead Zone" goes to Annapurna 1. The tallest mountain of the 55 kilometer long Annapurna Massif, it was also the very first 8k meter peak to be summited. Despite this honor, it has a 34% death ratio which is over thirty times that of Everest when counting against successful summits. As of March 2012, Annapurna 1 has only been successfully summited 191 times and has added over 60 deaths to its second list. The point is, it is a deadly, unforgiving S.O.B. which far eclipses Everest in danger and, among its peers, Everest is actually pretty tame.
Most would rank Everest around the eighth or ninth when comparing the amount of safe ascents with the unfortunate deaths. And nearly all of the successful climbers will attribute their successful climb and/or safety to the sherpas who helped them along the way. Largely considered the quiet heroes of the Himalayas, sherpas are often given the credit, though perhaps not the money, as the reason why Everest isn't much higher on the list. Climbers who have made it to Everest's first list multiple times will still accredit their sherpa guide to their safety with the frequently heard statement of, "you listen to your sherpa and the mountain or you die," accompanying their "advice" for newbie climbers.
--
On a related note, in my internet travels to find resources for the above two questions, I stumbled across probably one of the most impressive infographics I've seen in a long time. Though it did little to help answer anything specific, it is too good to just bury in my aggregate source lists on my profile.